Slab Leak Repair
The Leader in Slab Leak Repair in Edmond, OK
At Hull Plumbing, your plumbing system is always a priority. After all, we understand that your time is valuable, which is why we strive to provide prompt service. We are available 24 hours a day, seven days a week, for emergency services. Our team of experienced technicians is always ready to help you with any plumbing needs, particularly slab leak repair in Edmond, OK.
When it comes to having a slab foundation, you may have heard of leak repair services since it's a common issue in residential and commercial buildings. Slab leaks occur when water lines underneath your home's concrete foundation become damaged or corroded, leading to water seeping up through the foundation. Searching for "slab leak repair near me" is an important step in preventing costly damage and maintaining the structural integrity of your home.

We've gathered a lot of information for you!
Check out our blogs and learn more about our services and what you might need.
Warning Signs That You Have A Slab Leak
If you notice any of these warning signs, it could be a sign that you have a slab leak:
Unexpectedly high water bills
Water leak under slab
Unusual sounds coming from pipes
Cracks in the floor or walls
Importance Of Early Slab Leak Detection
Early slab leak detection and prompt repair are important for several reasons:
They can help prevent costly damage to your home and its foundation.
They can help save energy by ensuring water is well-spent through a leaky pipe.
Slab leaks can increase your home's humidity levels, creating mold and mildew issues.
Slab leaks can cause serious structural damage to your home's foundation if left unchecked.
If you suspect that there is indeed an issue, it's important to call a professional slab leak plumber for repairs as soon as possible. At Hull Plumbing, we have the experience and equipment to quickly and efficiently identify and repair slab leaks. We can also provide advice on how to prevent future slab leaks from occurring.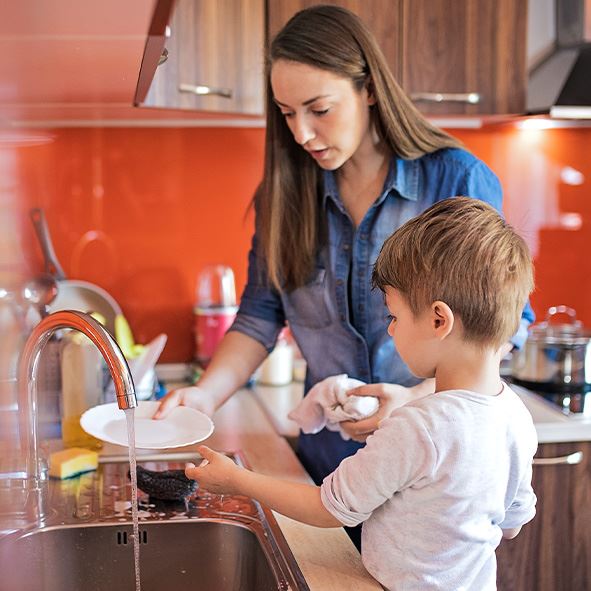 How Does Slab Leak Repair Work?
Plumbing slab leak repairs typically involve:
Identifying the source of the leak
Repairing or replacing the damaged pipe
Replacing any damaged concrete
Sealing any cracks in the foundation
Benefits of Choosing Hull Plumbing Inc
When it comes to slab leak repair from a plumber in Edmond, OK, you want to make sure you're choosing an experienced crew with a track record of quality service. Hull Plumbing Inc has been providing plumbing services since 1998, so you can trust that we have the knowledge and experience to handle any slab leak repair job. We take pride in our work and strive to provide the highest quality service at an affordable price. In addition, we offer estimates on all our jobs so that you can plan your budget accordingly.
Why Choose Hull Plumbing, Inc.?
What Makes Us Different
20+ Years of Experience

Industry veterans dedicated to serving our community.

Quality Experience & Solutions

We ensure you're happy from start to finish. From our staff to our solutions.

Insured for Your Peace of Mind

We make it easy for you to have confidence in the team you call.

24/7 Help Available

No matter when you need us, we're ready to help.