Drain Cleaning in Oklahoma City, OK
Sending Your Toughest Clog Troubles Down the Drain
Clogged drains can be a major source of frustration and hassle for homeowners in Oklahoma City. Whether it's a slow-draining sink or shower, an overflowing toilet, or even a backed-up sewer line, clogs are never pleasant to deal with. Left unaddressed, they can cause serious damage to your home's plumbing system and lead to costly repairs down the road.
That's why it's important to have professionals on hand who understand how these issues work and know what steps need to be taken in order to resolve them quickly and efficiently. Hull Plumbing is here as your go-to drain cleaning services provider in Oklahoma City – ready 24/7 for any emergency situation that may arise. With years of experience behind us, our licensed technicians will assess the issue at hand before getting right to work on clearing out whatever is causing your blockage problems so you can get back to enjoying the comfort of your home again soon.
Notice These Signs? You May Have Clogged Drains!
Determining blocked drains can be tough without knowing what to look for. Issues with drains are not always so obvious and may only arise when the problem has become quite serious. By catching issues early, you could save yourself both time and money.
Our drain cleaners can help, but in the meantime watch for these tell-tale signs:
Slow drains
Foul odors from drains
Backed-up drains
Wet or overly green spots in the yard
Gurgling sounds from drains
Reduced water pressure
Call us today at (405) 267-9283 or contact us online to schedule an appointment. Our Oklahoma City drain cleaners are ready to pull the plug on your drain clog!

We've gathered a lot of information for you!
Check out our blogs and learn more about our services and what you might need.
The Biggest Causes of Clogged Drains
Drains are designed to do one thing and one thing only: transport water in and out of a home. Unfortunately, people often use their drains for more than that, resulting in blockages. And sometimes there are other culprits that are out of our control.
These causes include:
Hair: Long hair is one of the most common drain-clogging culprits. It's not just from your head, either—your pet's fur can also be a major source of clogs.
Soap scum buildup: Soap residue, dirt, and other debris gradually accumulate in drains over time. If not properly cleaned out, this can lead to an obstruction in the pipe and eventual blockage.
Grease or food particles: Grease, fat, and oil are never good for drains as they solidify inside the pipes and eventually cause clogs. Food particles can also build up over time if not disposed of correctly (e.g., flushing down too much rice or pasta).
Tree roots: Sometimes, a clogged drain can be the result of an outside factor such as tree root intrusion. Roots often seek out sources of water and if they've managed to penetrate your drainage system, they can cause major blockages.
Whether it's because of the weather or something else entirely, our team can help! To start cleaning the drain, we first inspect it visually. This helps us identify the cause of the clog and decide on the best way to remove it. For small clogs, we suggest using drain snaking which involves inserting a cable with a corkscrew attachment into the drain and rotating it to break up and move the debris through the pipes.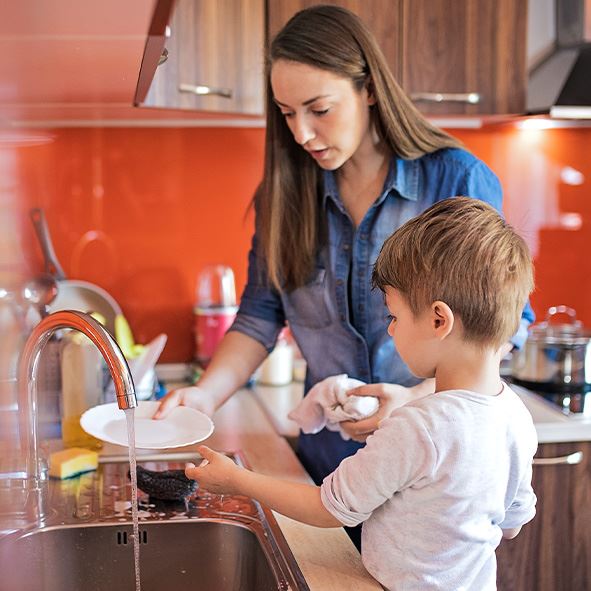 Why You Shouldn't Do DIY Drain Cleaning
If you have a clogged drain, it may seem like a good idea to try to address it yourself. However, this may not be wise. Though a clog appears to be a simple problem, there may be a more significant underlying issue. As a result, attempting to fix the clog yourself can worsen an existing issue, which could end up being more costly than simply contacting our team to address the initial clog. You may break or damage the pipe through your own efforts or by using supermarket drain cleaners.
DIY drain cleaning can also be dangerous. Many drain cleaners contain harsh chemicals that can cause skin and eye irritation if handled without the right equipment. In addition, the fumes released by these products are toxic and can pose a real risk to you and your family's health.
In short, it's best to leave the job of clearing out a clogged drain to licensed professionals. That way, you will have peace of mind in knowing that the task is being done correctly and safely. At Hull Plumbing we specialize not just in drain cleaning, but also repair and replacement should it be necessary.
For reliable and efficient drain cleaning services in Oklahoma City, contact Hull Plumbing today at (405) 267-9283 or contact us online to schedule an appointment. Our trained technicians are available around the clock to help get your clogged drains flowing again!
Why Choose Hull Plumbing, Inc.?
What Makes Us Different
20+ Years of Experience

Industry veterans dedicated to serving our community.

Quality Experience & Solutions

We ensure you're happy from start to finish. From our staff to our solutions.

Insured for Your Peace of Mind

We make it easy for you to have confidence in the team you call.

24/7 Help Available

No matter when you need us, we're ready to help.