Efficient Slab Leak Repair in Norman, OK
Slab leaks are among the ugliest, most frustrating plumbing problems you can ever find in any Norman, OK home or building. If you suspect or notice you have one, you should get it located and repaired immediately. Hull Plumbing is available 24/7 to offer fast and effective slab leak repair in Norman, OK. Our specially trained plumbers have a variety of cutting-edge, non-invasive leak detection equipment and proven repair techniques to choose from to accurately locate and expertly repair any water leak on your property.
How To Tell If You Have a Slab Leak
Uncovering a plumbing slab leak is much more like tracking a well-camouflaged animal- you can't see it, but you can notice a few side effects. However, there are some signs that can clue you into a potential slab leak. These include:
Increased water bill
A sudden decline in water pressure
Cracked floor or ceiling
The sound of running water
Mold and mildew growth
Hot spots on the floor
Visible ground shifts around the home
Discolored water

We've gathered a lot of information for you!
Check out our blogs and learn more about our services and what you might need.
Benefits of Early Slab Leak Detection
Finding a water leak under slab before it becomes a major problem for your Norman home is one of the benefits of the leak detection services our team provides. Early leak detection will prompt quick repairs, avoiding further damage to the piping system and saving you from high repair and water bills. If a slab leak goes unnoticed for an extended period, the collected water can cause extensive structural damage. Early leak detection will ensure no leaks remain hidden, protecting your property's structure from damage.
At Hull Plumbing, we use sophisticated equipment for slab leak detection without tearing up your yard or home. This means you don't have to worry about post-work restoration costs or cleaning up when we leave.
Benefits of Our Services
When you choose a professional after searching for "slab leak repair near me", you'll benefit from efficient and lasting repairs. Thanks to our top-of-the-line equipment and new repair techniques, our crew will be in and out of your business or home in a span of a few hours so you can resume your daily routine. Our professional slab leak repair will also improve the health and longevity of your piping system. You can rest easy knowing your plumbing will not need any additional repairs for an extended period.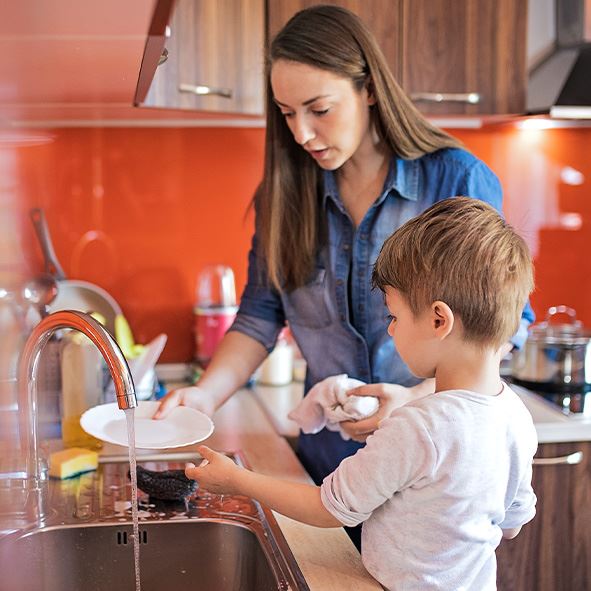 How Hull Plumbing Deals With Slab Leaks
A slab leak plumber will quickly come to your location and inspect your home or building. We have specially designed equipment that can check through walls and beneath the surface of your property to find the slab leak. Once we find the problem, we'll take our time to explain it to you and provide an accurate estimate before any work begins so you can make a sound decision.
If the damage is relatively minor, we'll perform spot repair to replace a small section of the affected pipe. In other cases, we may reroute your home's piping to avoid digging into the slab. This method is usually faster and less costly.
Why Choose Us?
Choosing us a plumber in Norman, OK, for slab leak repair and detection comes with several added benefits, including:
Excellent customer service
Affordable rates
No mess left behind
100% satisfaction guarantee
Why Choose Hull Plumbing, Inc.?
What Makes Us Different
20+ Years of Experience

Industry veterans dedicated to serving our community.

Quality Experience & Solutions

We ensure you're happy from start to finish. From our staff to our solutions.

Insured for Your Peace of Mind

We make it easy for you to have confidence in the team you call.

24/7 Help Available

No matter when you need us, we're ready to help.