Summer is a time to kick back, relax and enjoy the sunshine. It also means finding different ways to beat the heat. As temperatures rise, so to does the likelihood of taking a dip in the pool or splashing yourself with a hose.
It's part of the reason water consumption spikes across the country during summer. According to the Environmental Protection Agency, the average family uses 320 gallons of water per day during the cool months. That number can skyrocket to 1,000 gallons per day during summer. Some families even use up to 3,000 gallons per day, which is the equivalent of leaving a garden hose running for eight hours straight.
This can have a big impact on both public resources and your water bill. Luckily, there are a number of ways your family can enjoy the hot weather and stay cool without using too much water.
Let's take a peek at a few ways to have summertime fun and not waste water.
Help Your Kids Learn to Garden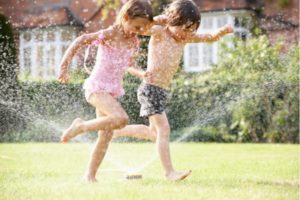 Want to teach your children valuable skills and how to conserve water? Consider giving them a lesson in gardening. It's always a good idea to get kids in the habit of maintaining spaces around the home.
Gardening is a way to do that while also teaching them the virtue of patience and the satisfaction of starting and finishing a project.
Two-For-One: Stay Cool While Watering Your Lawn
A lot of those extra gallons of water we used during summer have to do with landscaping. We always want to keep our grass green and our flowers looking beautiful. This requires regular watering. But there's an easy way to take care of the yard and garden while also keeping cool under the hot sun.
If you use a sprinkler to water your lawn, it can also be used like a water park attraction. Evenly distribute water across your land while giving your family an excuse to jump through the water jets over and over again. If you water using a hose, you can still have your kids jump across the stream while you take care of your lawn.
Go for a Dip in the Local Pool
Public pools are meant to be used by locals, and you should take advantage of them. It's another way to reduce water consumption while providing a fun way to cool off on those hot summer days.
They're safe, too, as they'll be staffed by well-trained lifeguards. Kick back and relax while your kids play and take a break from the heat.
The post Ways to Have Summertime Fun and Not Waste Water appeared first on Hull Plumbing.